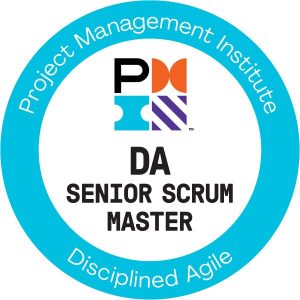 Disciplined Agile Scrum Master (DASM) /Disciplined Agile Senior Scrum Master (DASSM) Certification Training
Courses Overview
CONSAK Inc accredited by PMI as Premier Authorized Partner (ATP).
We are glad to offer Disciplined Agile workshops for DASM / DASSM training and certification courses. Each of these workshops is two days long and enables participant to pass their certification exam in first try.
Such knowledge it valuable to help in understanding the benefits and power of Discipline Agile® (DA) tool kit to help organizations gain business agility and keep them competitive in dynamic market conditions.
The Disciplined Agile® tool kit is framework agnostic, breaking away from method prison to opening ways to choose way of working that is most relevant to the context. The choice includes Predictive, Agile, Lean, Continuous Delivery Agile, Continuous Delivery Lean, Exploratory and Program approaches for product /project management.
DA certifications equip one with ability to handle agile teams, thus future-proofing your career in a world in which agile is fast becoming the way forward.
Target Audience
DASM
No experience in agile methods is required – this is introductory training and certification built to educate you on agile and lean fundamentals and the Disciplined Agile tool kit with skills to immediately apply what you have learned.
DASM Workshop Details
DASSM
Course is for people who meet the criteria as laid out by PMI. Professionals who are experienced with Agile and wish to accelerate their career can do this course.
DASSM Workshop Details
Learning Objectives
Upon completion of this course, participants will learn the following:
Appreciate the DA™ mindset and its underlying principles, such as pragmatism, the power of choice, and adapting to context.
Grasp the knowledge of agile and lean, and how to practically use such approaches to produce value for your clients.
Explore multiple agile and lean techniques from methods such as Scrum, Kanban, and more.
Understand how to put these techniques into practice and ensure successful agile implementation.
Learn how to apply the Disciplined Agile tool kit to discover the most effective way of working (WoW) for you, and your team in your unique situation.
Be prepared to take the Disciplined Agile Scrum Master (DASM) / Disciplined Agile Senior Scrum Master (DASSM) Certification exam as applicable and pass in first try.
Your exam fee is included in tuition.
Dates
Dates for our Live-Online Trainings and face-to-face trainings can be found in the schedule on our website. We also provide flexibility to announce dates as convenient to the client and matching availability of instructor.
www.consak.ca.
Costs
For open trainings, our current price list applies.

DASM training inclusive of exam fee $1250
DASSM training inclusive of exam fee $1350
We will be happy to provide you with further information on our training courses and individual in-house trainings and create a personal offer tailored to your company.
Course Schedule
| Course | Start Date | End Date | Course Fee ($) | Exam Fee (USD) | Exam Info | Requirements |
| --- | --- | --- | --- | --- | --- | --- |
| Disciplined Agile Scrum Master (DASM)® | To be Updated | TBD | TBD | TBD | TBD | TBD |
| Disciplined Agile Senior Scrum Master (DASSM)® | To be Updated | TBD | TBD | TBD | TBD | TBD |